Given the fact that our bedrooms are small and our things are so many, storage solutions are of primary importance nowadays. These days, interiors are designed in such a way that the decorative elements are not only visually appealing but highly functional. Designing marvels are components that make an artistic element functional as well.
Limited storage can make your house look disheveled and messy. To reduce this entropy, efficient and meticulous use of space is of utmost significance. With smart tips and techniques, the issue of storage can be easily handled. We have brought for you some of the smartest and visually appealing hacks to tackle your bedroom storage problems. So let us get on with them.
If you are struggling to make ends meet with a small bedroom, we have some life-saving hacks for you. You will thank us later!
Storage ideas for small bedrooms:
Go overboard
Make you of everything that you have got
Organize your drawers
Use baskets to store those extra knick-knacks
Use all your accessories to accessorize your space
1. Go overboard:
One of the smartest ways to increase the storage efficiency in your bedroom is to make complete use of the headboard. Storing small objects can be a huge problem, they usually do not have assigned places to be stored in. We usually end up placing them in odd places and corners. This just adds to the pre-existing entropy of our space.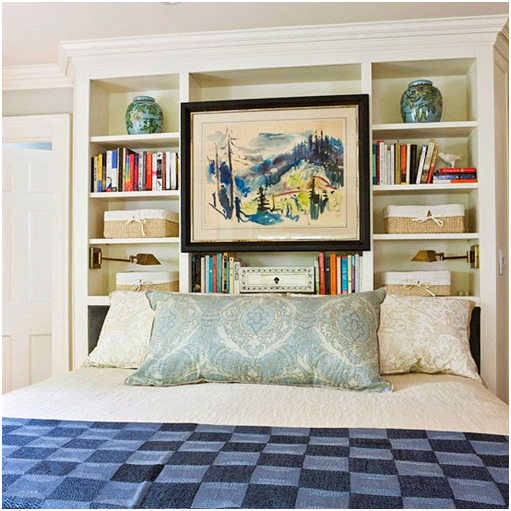 You can invest in shelved headboards and store books, showpieces, frames, and all those tiny tidbits on it. With their growing popularity, they are available in numerous variations in the market. You can go for shelves that completely cover the wall behind your bed or go for leveled shelves if you do not want to adorn the complete wall with shelves.
2. Make use of everything that you have got:
Your room is your canvas. Paint every corner with functionality and efficacy. Invest in a small table or bamboo basket as your bedside storage that has space to store books and other knick-knacks. Do not forget to use the windows. Install cabinets with comfortable seating near the window of your room.
These cabinets can store a lot of things, varying in size. You can even consider storing your footwear in these cabinets. You can also consider doubling up your window seat as a drawer and storing your belongings in it. This is one of the smartest ways to make your bedroom accommodate more stuff in a limited space.
3. Organize your drawers:
Organizing your drawer can be the peskiest task. Storing your belongings in an efficient way can seem like a tedious task but you are doing yourself a favor by organizing your drawers regularly. If your drawers look disarrayed, take some time out and sort them out the soonest. Placing clothes and other personal and impersonal belongings in an organized manner not only makes room for other stuff but also helps you find stuff on time, without any hassle.
To avoid such time-consuming situations, Compartmentalization is your buddy! Divide your wardrobe and drawers into practical compartments and allocate each section to a particular category of belongings. This way, you will get rid of that messy pile and will be able to store more in a limited space.
4. Use baskets to store those extra knick-knacks:
If you have a small bedroom and have no idea where to store your rugs, buy small baskets with lids. You can store your rugs, sheets, blankets, and other bedding commodities in these baskets and push them under your bed.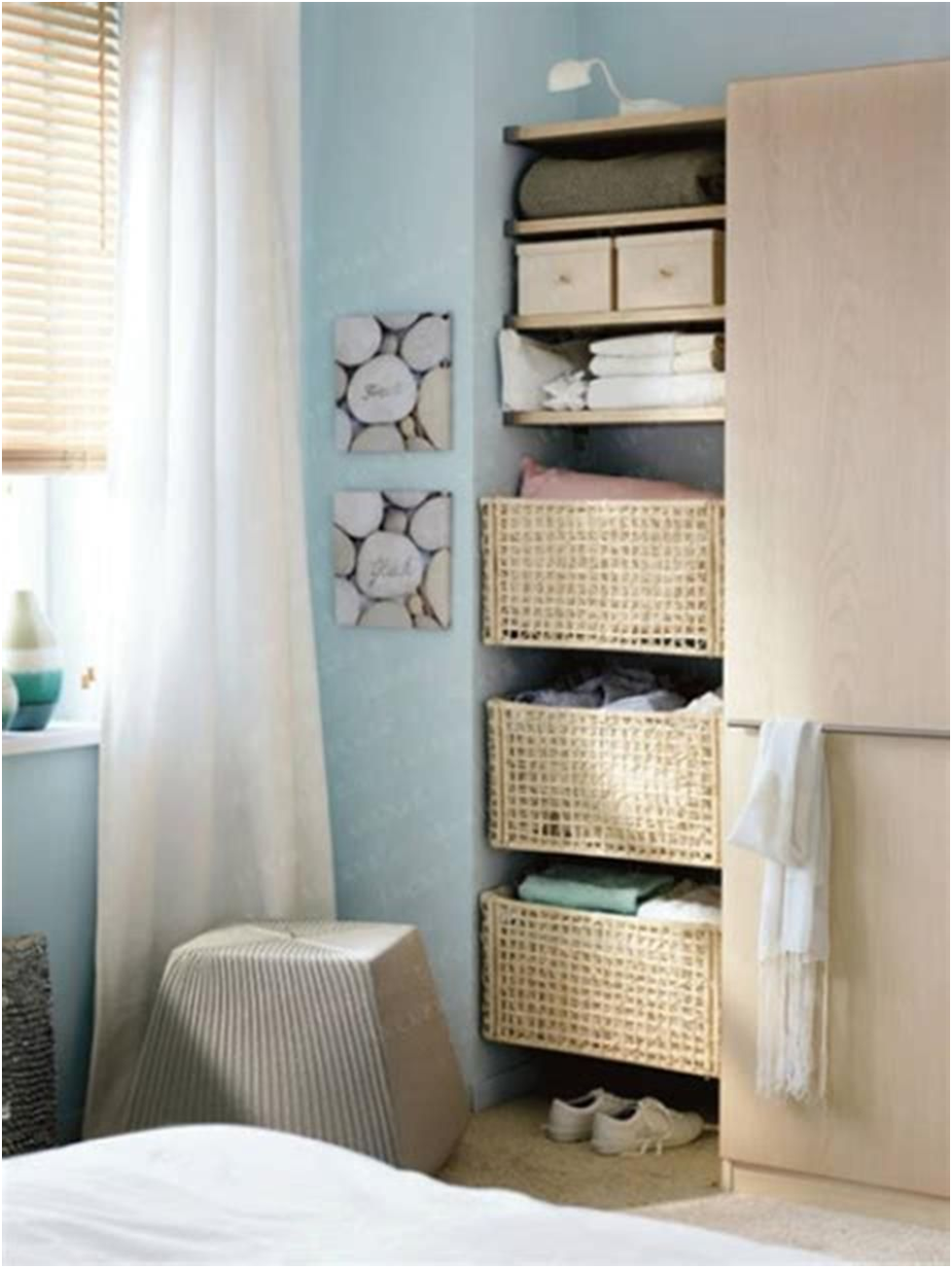 This way, you will be able to achieve that spotlessly clean bedroom look and will have a lot of leg-room. Baskets come in a number of shapes and sizes. You can invest in bamboo baskets for their spacious build and aesthetic appeal.
5. Use all your accessories to accessorize your space:
Accessories such as hats, glasses, bags, and so on can take up a lot of space. You can make DIY bohemian wood mantles or wire mesh to display your accessories and store them in an unorthodox way. Placing hooks on your walls can serve as a vibrant hat or scarf corner. You can also buy beautiful jars for storing your beauty products.
Infuse all these hacks and keep your bedroom looking fresh and clutter-free.