These days, interior designing is all about functionality and demand-oriented elements. These elements not only enhance the appeal but also help increase the efficacy in day to day life. We live in a world where people take pride in styling their homes intricately. A wardrobe is such an important element of home decor and we can never have enough of them.
It is important to keep in mind that a wardrobe can dramatically transform your room. If it does not complement the theme of your interiors, it can ruin the feel of your bedroom completely.
You do not want to reduce the visual appeal of your bedroom. But how to choose the best wardrobe for your bedroom? Say no more! We are here to help you choose the perfect wardrobe for your bedroom. This article is going to act as your savior when you go wardrobe shopping. To know more about wardrobes, read on.
Choosing the best wardrobe can be a pesky task but this guide will definitely help you choose the best possible wardrobe to help enhance your interiors. Dive in.
Wardrobe designs for your interiors
Wooden wardrobes
Mirrored wardrobes
Wardrobes with a frosted mirror
Lacquered glass wardrobe
Leather finish wardrobe
Metal inlay work wardrobe
Louvered wardrobes
Wardrobes with wallpapers installed on them
1. Wooden wardrobes
Nothing can compare to the everlasting elegance that wooden wardrobes exude. They are strong, durable, classy, and everlasting. Wooden wardrobes are the most popular wardrobes. They are constructed using hardwoods like oak, cherry, willow, and so on. They complement any theme and look imposing and royal.
You can go for a textured wooden wardrobe or a manually designed wooden wardrobe. These wardrobes can further be accessorized to enhance their appeal. If you have dull interiors, you can add a pop of color to your room by installing a painted wooden wardrobe in it. If you have warm colors in your bedroom, you can go for a dark, and rich wooden wardrobe.
2. Mirrored wardrobes
Who does not like wardrobes that have mirrors along with good storage? These wardrobes make the bedroom look larger than it already is. When you have a mirrored wardrobe, you do not have to worry about getting a dressing unit installed; it is a two in one. If a full length mirror looks staid then patterned mirrors can also be used.
3. Wardrobes with a matte/frosted mirror
These designs are perfect for walk-in wardrobes. They effectively hide the contents of the wardrobe but also allow you to distinguish between the contents. It is possible to incorporate your favorite designs on the mirrors of such wardrobes. They give a rich and trendy character to your bedroom.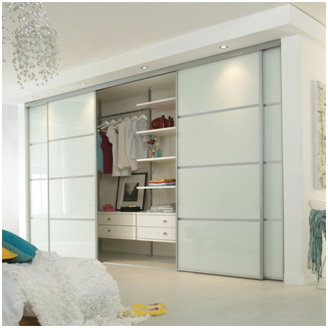 4. Lacquered glass wardrobes
These wardrobes are extremely popular for the sleek and stylish finish they provide. Lacquered glass wardrobes are extremely easy to maintain because of their smooth exteriors. These wardrobes make for an elegant and futuristic space.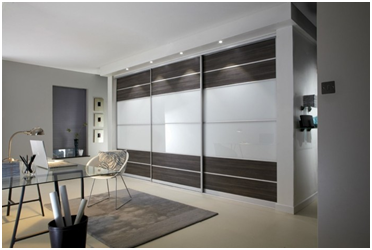 5. Leather finished wardrobes
Everyone likes a touch of royalty in their home even if it is in the form of a wardrobe. Set aside those designer leather bags and shoes and invest in a leather-finished wardrobe. They add that 'wow' factor to an otherwise gloomy room. A sliding shutter wardrobe would work the best for such formats.
6. Metal inlay work wardrobe
These wardrobes never go out of style. The metal pattern adds regality to an otherwise boring wardrobe design. Intricate metalwork can dramatically enhance the appearance of your wardrobe.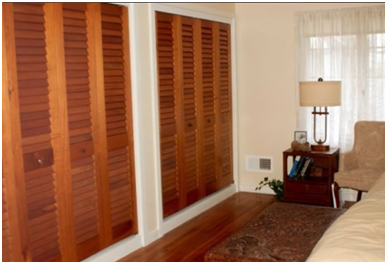 7. Louvered wardrobes
Louvered give an old-world charm to the room. These wardrobes can go with any theme. They provide ventilation to a great extent and look classy.
8. Wardrobes installed with wallpaper
This is the most economical option to transform the look of your bedroom. You can install artistic, resplendent wallpaper on your wardrobe and make it look luxurious. You can have fun with wallpapers and customize the perfect wardrobe for your bedroom.
We hope you found this article useful while choosing your wardrobe exteriors. Don't hesitate to think out of the box and choose the best-suited wardrobe for your bedroom using this wonderful guide.